Gas and electric dryers add some much needed convenience to busy households and large families where you don't have the time to wait for your clothes to dry on the washing line. The Whirlpool WED4950HW is an electric dryer with an attractive price-point of $579 and a solid set of features including a large 7 cu. ft drum and 14 cycles to choose from.
Whirlpool WED4950HW: Key specs
Price: $579
Dimensions: 43x29x28-¼"
Noise level: N/A
Capacity (cu. ft): 7
Cycles: 14
Energy Star certified: No
Warranty: 1 year parts and labor, 10 years drum and motor
Founded in 1911 in Michigan, Whirlpool has been making household goods and appliances for over a century in the US. With a history of making dryers since the 1950s it's no surprise that its products are regularly chosen for our best dryers buying guide. 
In this review we take a closer look at the advantages and drawbacks of the Whirlpool WED4950HW so you can weigh up the pros and cons and make an informed decision before parting with your cash on a new electric dryer.
Whirlpool WED4950HW: Design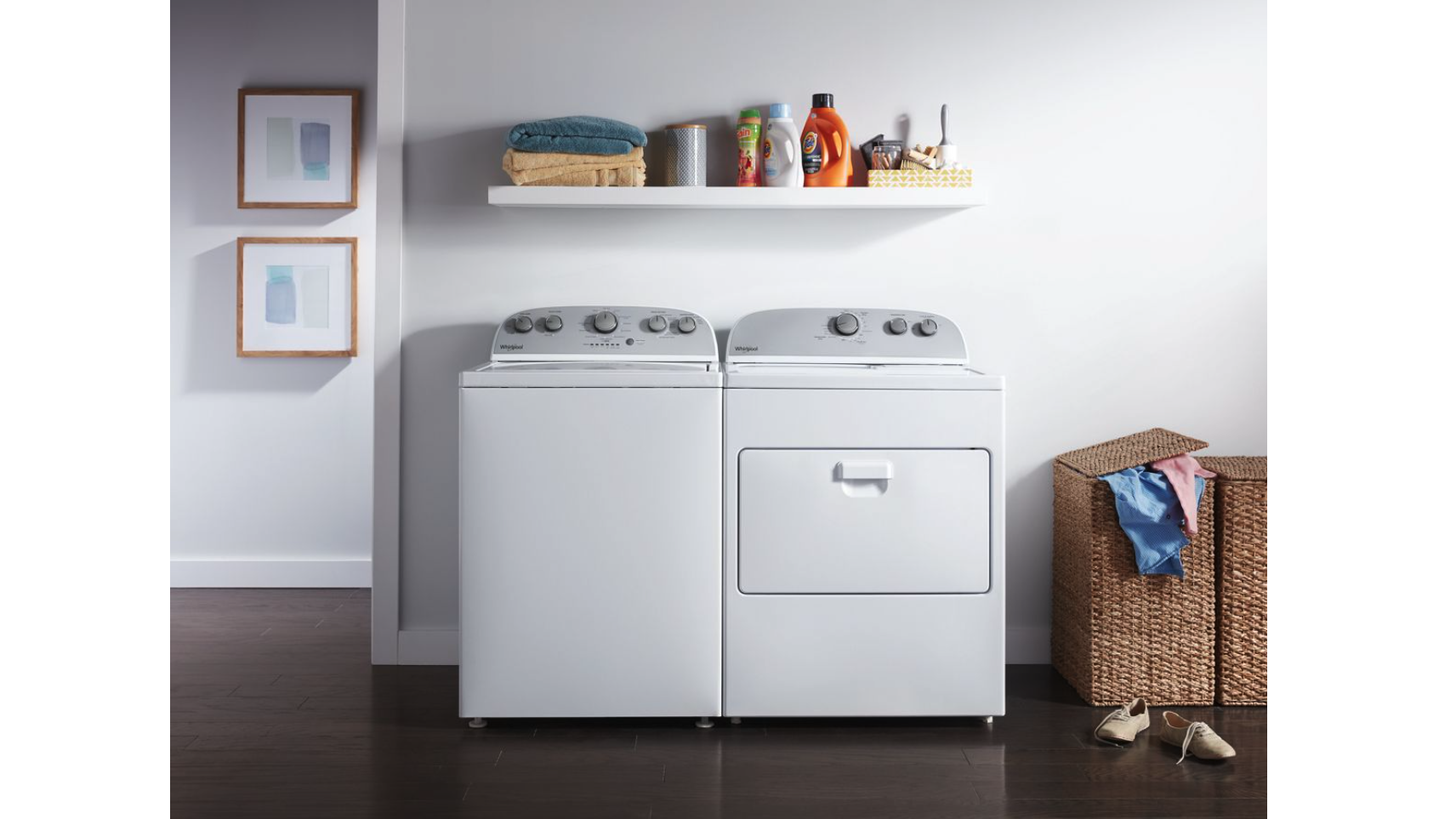 The Whirlpool WED4950HW has dimensions of 43x29x28-¼" and has both a top load lid for dumping your items into it, as well as a front opening hamper door for ease of access when unloading the dryer.
Available only in a white metal design, it perfectly compliments Whirlpool's matching WTW4955HW washing machine. Both take on a minimal and clean design.
Whirlpool also proudly states that the WED4950HW is designed, engineered and assembled in the U.S.A adding some reassurance that you're buying a quality product.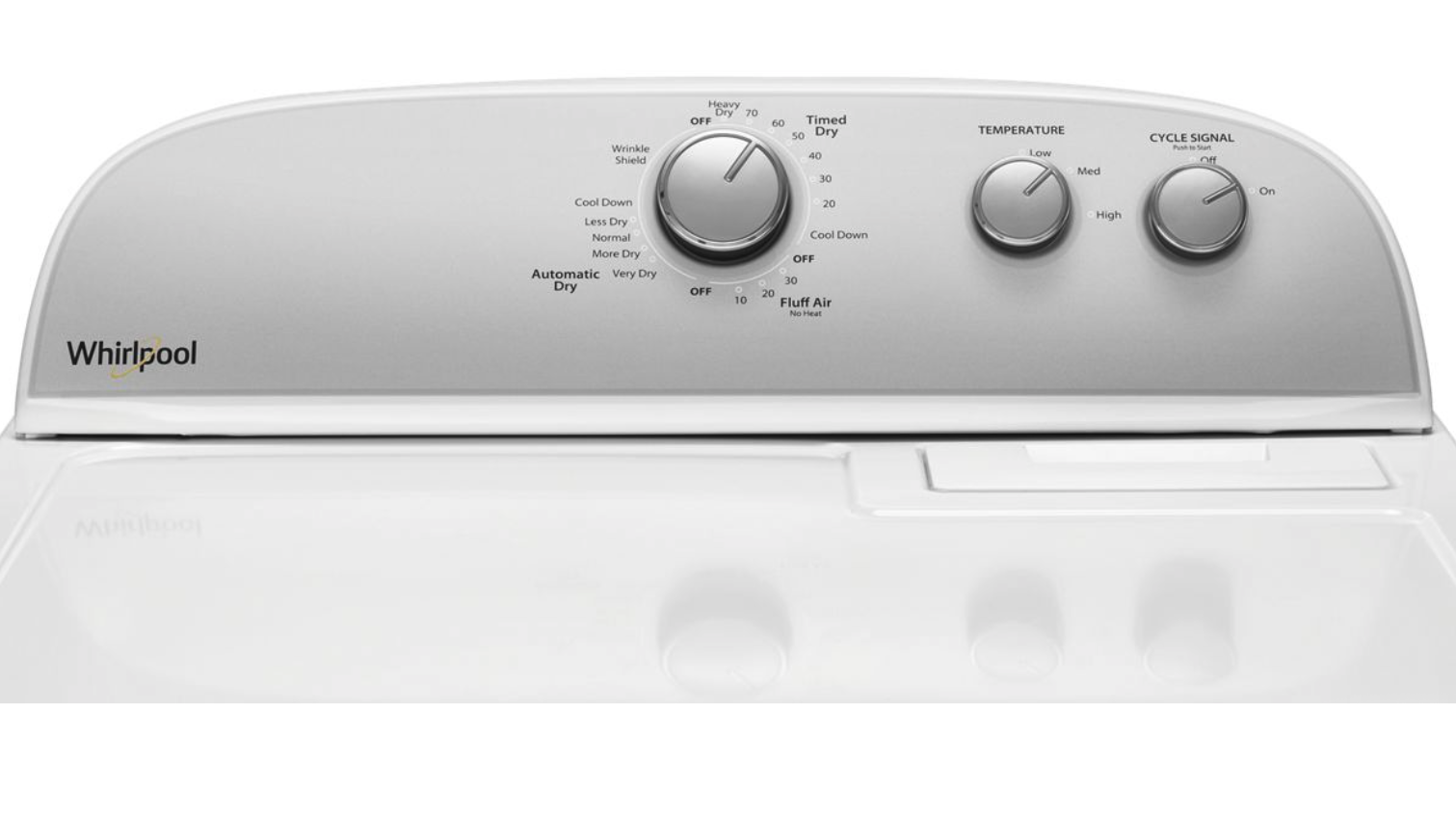 The control panel is placed on the top at the back of the dryer making it easy to use but not possible to stack (also due to it being a top loader design). Here you'll find three physical dials for choosing between the 14 different cycles, setting the temperature to Low, Medium or High and to switch on or off the Cycle Signal.
Whirlpool WED4950HW: Features
The Whirlpool WED4950HW features an AutoDry™ system, which helps prevent overdrying, or Timed Dry, which lets you manually control your drying schedule.
There's also a Wrinkle Shield™ setting to help cut down on your items coming out creased by adding intermittent tumbling after the dryer cycle ends.
You can also put the machine on a Tumble Dry Cycle which claims to be a more efficient way of air drying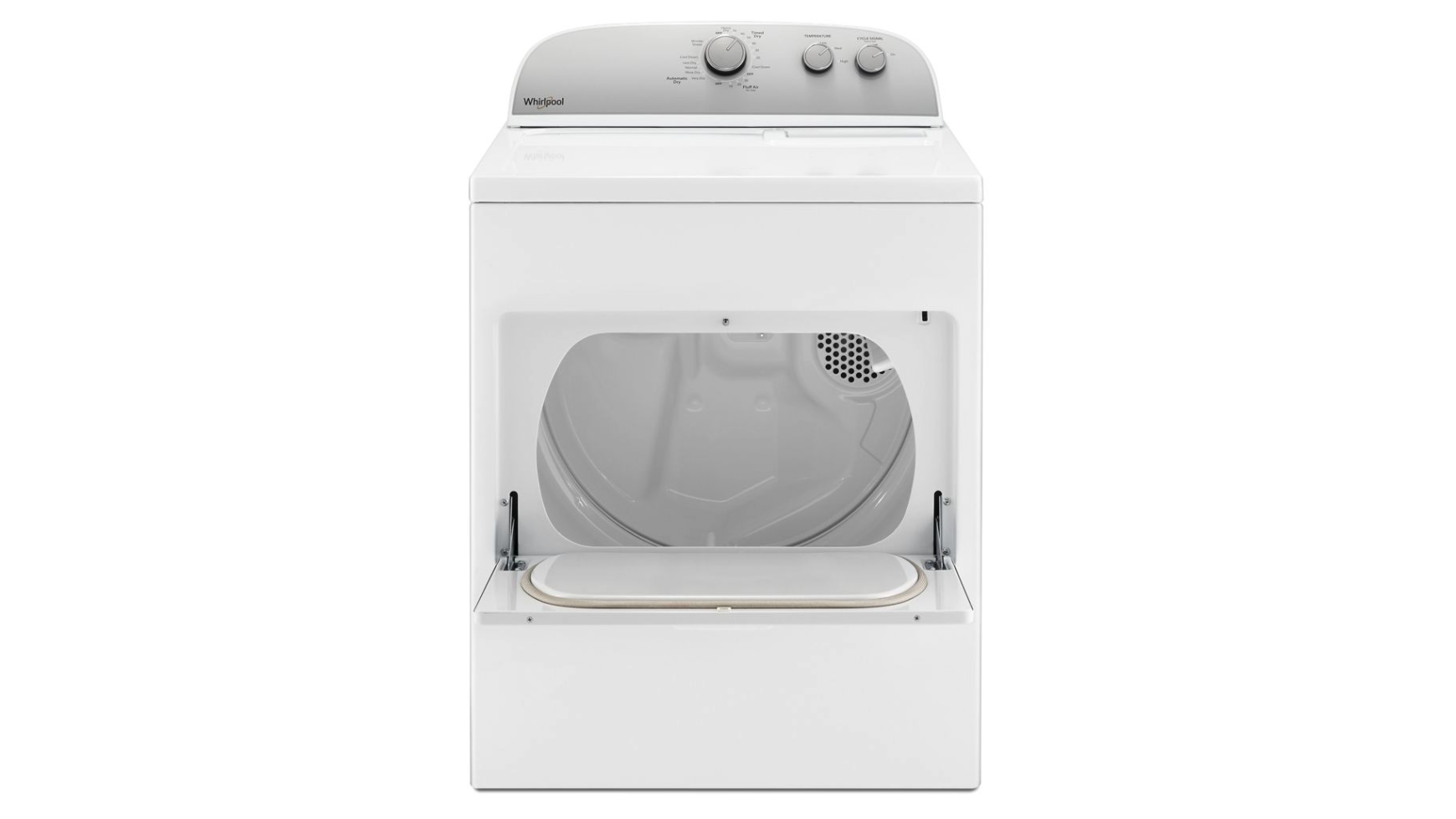 Using the Timed Dry function you can set the control and you can get your fabrics dried on your schedule.
There's three different drying temperatures to choose from: Low, Medium or High, and the hamper door makes it easier to unload all of the laundry inside, rather than pulling it all out from the top – particularly handy if you're not very tall and often struggle to fish out all of the items at the bottom of your washer or dryers.
As the Whirlpool WTW4955HW is a budget model, sitting at around the $579 mark, there are some notable omissions. You don't get any Wi-Fi or Smart features so the dryer can't be controlled or scheduled remotely through an app, this won't be a deal-breaker though if you don't wish to use such features.
There's also no moisture sensor or lint filter indicator, so you'll have to take a more manual approach to checking your laundry is dry and that the filter hasn't become full.
Whirlpool WED4950HW: Price and availability
The Whirlpool WED4950HW has an RRP of $674, though we frequently found it marked down to around $579 on sale. The Whirlpool official website was currently out of stock at the time of review, though we could still find it available at Best Buy, PC Richard & Son as well as Home Depot.
Whirlpool WED4950HW: User reviews
On the official Whirlpool website the WED4950HW has collected over 2500 reviews with an impressive overall score of 4.5 stars out of 5.
One happy customer that left top marks had this to say, "We bought it because our old one failed. This new dryer works great and doesn't require high heat to dry clothes fully. It's easy to use, intuitive."
While another 5 star review said, "This dryer replaces a 20+ year-old Whirlpool dryer that was in our house when we bought it in 2007, and it was a fantastic dryer, but when it would no longer heat (it still blew air and tumbled), we decided to try to find a dryer as similar to the old one as possible. And so far, so good! This dryer is quite similar to our old one that gave us such good service for so many years, and we expect the same from this dryer"… "It does have an automatic shut off function that our old dryer didn't have, and that does seem to be an improvement, but other than that, it's just about the same as our old dryer. We are very pleased with our purchase, and expect a long relationship with another dependable Whirlpool dryer!"
Some of the negative comments that frequently appeared when scouring the  reviews were that a few customers noted that the dryer took too long, or would require multiple cycles to completely dry the clothes. One unhappy customer left a 1 star review saying, "noisy, and lint trap is flimsy and doesn't contain the lint well during cycle."
Whirlpool WED4950HW: Expert reviews
Nelly Martinez, Whirlpool Senior Brand Manager had the following to say about the Whirlpool WED4950HW.
"Whirlpool's Top Load Electric Dryer with AutoDry™ Drying System is the perfect large dryer to help handle the whole family's laundry. With many drying options, from the AutoDry Drying System to Wrinkle Shield and more, there is always a setting fit for the laundry load at hand and takes some of the guesswork out of laundry day."
Should you buy the Whirlpool WED4950HW?
The Whirlpool WED4950HW was named our best value dryer in 2023 and for good reason! The quality US-made dryer offers excellent bang for your buck with its huge 7 cu. ft capacity making it ideal for large households and bulky items, as well as its respectable 14 cycles and 10 year warranty on the drum and motor.
Though basic, it's easy to use and quiet, so would be a great one to choose if you're on a tight budget and don't require any Smart features.
How does the Whirlpool WED4950HW compare to competitors?
The GE GFD55ESSNWW was named our 'Best dryer you can buy' with a larger capacity than the Whirlpool at 7.8 cu. ft, 15 cycles with 5 programs and Smart features, though it is considerably more expensive at about $899.
Named our 'Best dryer for smart features' the Samsung DV45K6500GV could be a better choice if would want the best experience via using an app with the Wi-Fi and Smart features. It also has a slightly higher capacity of 7.5 cu. ft and energy efficient, though you may be hampered by its gas connection and it's over twice the price of the Whirlpool model we looked at here, with an RRP of $1,299.
The Amana NED4655EW is an inexpensive dryer that gets the job done, so its low RRP of $499 (often discounted down to $398) brings it closer to the price range of the Whirlpool model here. Although costing less money, you also get fewer features, with a lower capacity of 6.5 cu. ft and 11 cycles to choose from. It would still be a good one to consider if you're on a super strict budget and don't have the money to stretch to the Whirlpool WED4950HW.