If you're looking for a new fridge-freezer the Whirlpool WRS325SDHB could be the model for you! It's a 36″ inch wide American-style twin door option that costs $1,619. While that's no small chunk of change, the Whirlpool WRS325SDHB is a great value proposition, packing in a huge roster of features. 
The headlines of which are its four color options and a slick design, a built-in ice dispenser, water filtration system, 25 cu. ft internal capacity, LED Interior Lighting, adaptive defrost setting, adjustable gallon door bins and an in-door can caddy.
Whirlpool WRS325SDHB: Key specs
Price: $1,619
Dimensions: 69.6×35.9×33.6″
Refrigerator capacity (cu. ft): 15.44
Freezer capacity (cu. ft): 9.11
Ice maker: Yes
Water filtration: Yes
Energy Star certified: Yes
Warranty: 1 year parts and labor
Whirlpool was founded in 1911 and later merged with Seeger Refridgerator Co. in 1955. With over 70 years of experience making refirdigerators and freezers it's perhaps no surprise that its products frequently appear in our best fridges buying guides.
In this review we take a closer look at the advantages and drawbacks of the Whirlpool WRS325SDHB to see if it's one you should consider if you're in the market for a new American-style fridge freezer.
Read more: Best mini fridges 2023
Whirlpool WRS325SDHB: Design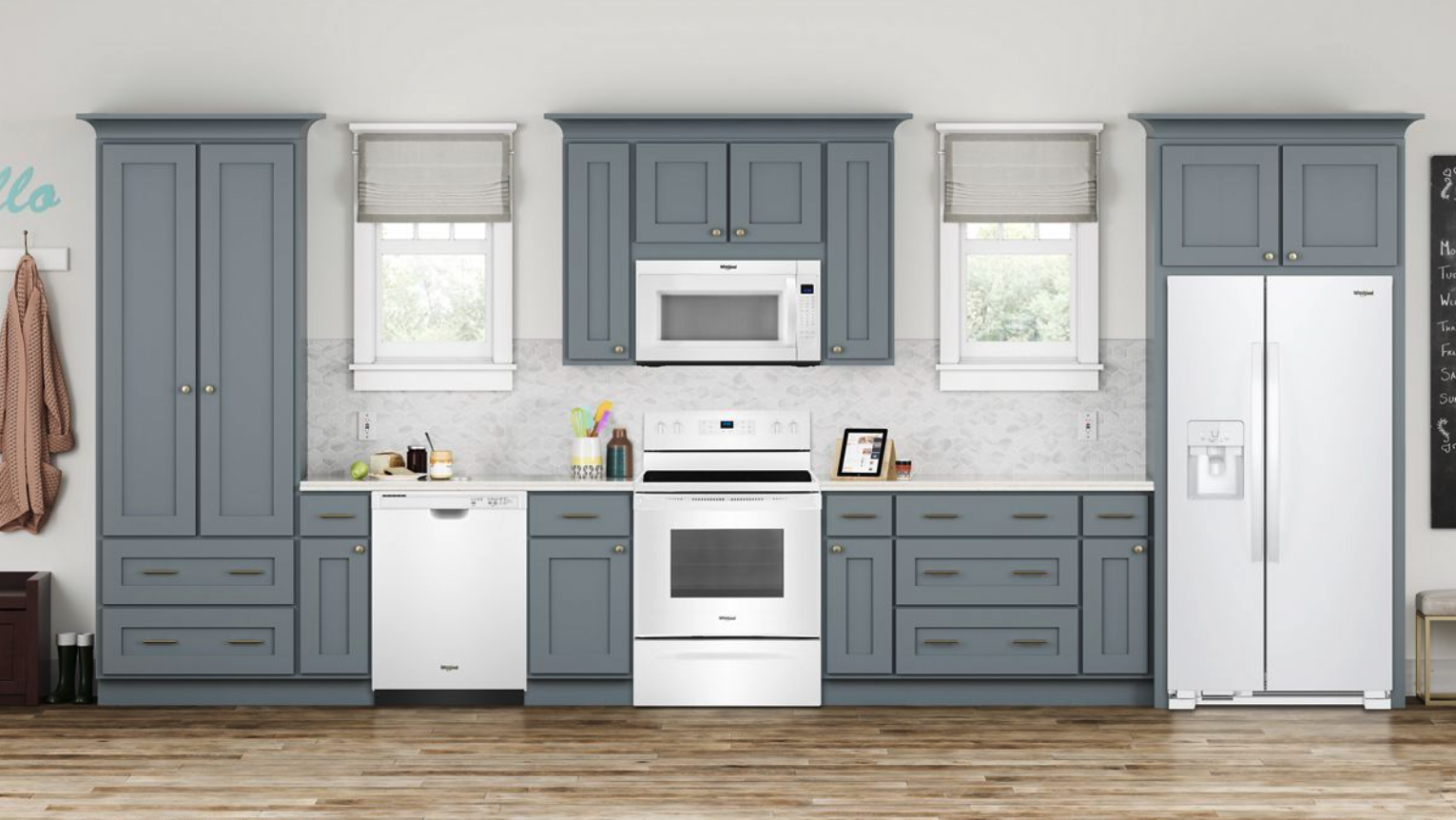 The Whirlpool WRS325SDHB is a 36-inch Wide Side-by-Side Refrigerator available in four different colorways, all with a premium high end finish: Black, White, Black Stainless and Fingerprint Resistant Stainless Steel. 
It has dimensions of 69.6×35.9×33.6″ and an 25 cu. ft internal capacity, divided up into 15.44 cu. ft for the fridge and 9.1 cu. ft for the freezer. The ice dispenser is on the inside of the freezer door so this does eat into your overall space in the freezer compartment slightly unfortunately. 
It also features Frameless Glass Shelves, designed to give you more room from edge-to-edge. However, these are fixed in place and many users said that they'd have liked the flexibility to move them around to customise them and fit in bulkier items on the occasions where they'd needed the extra space.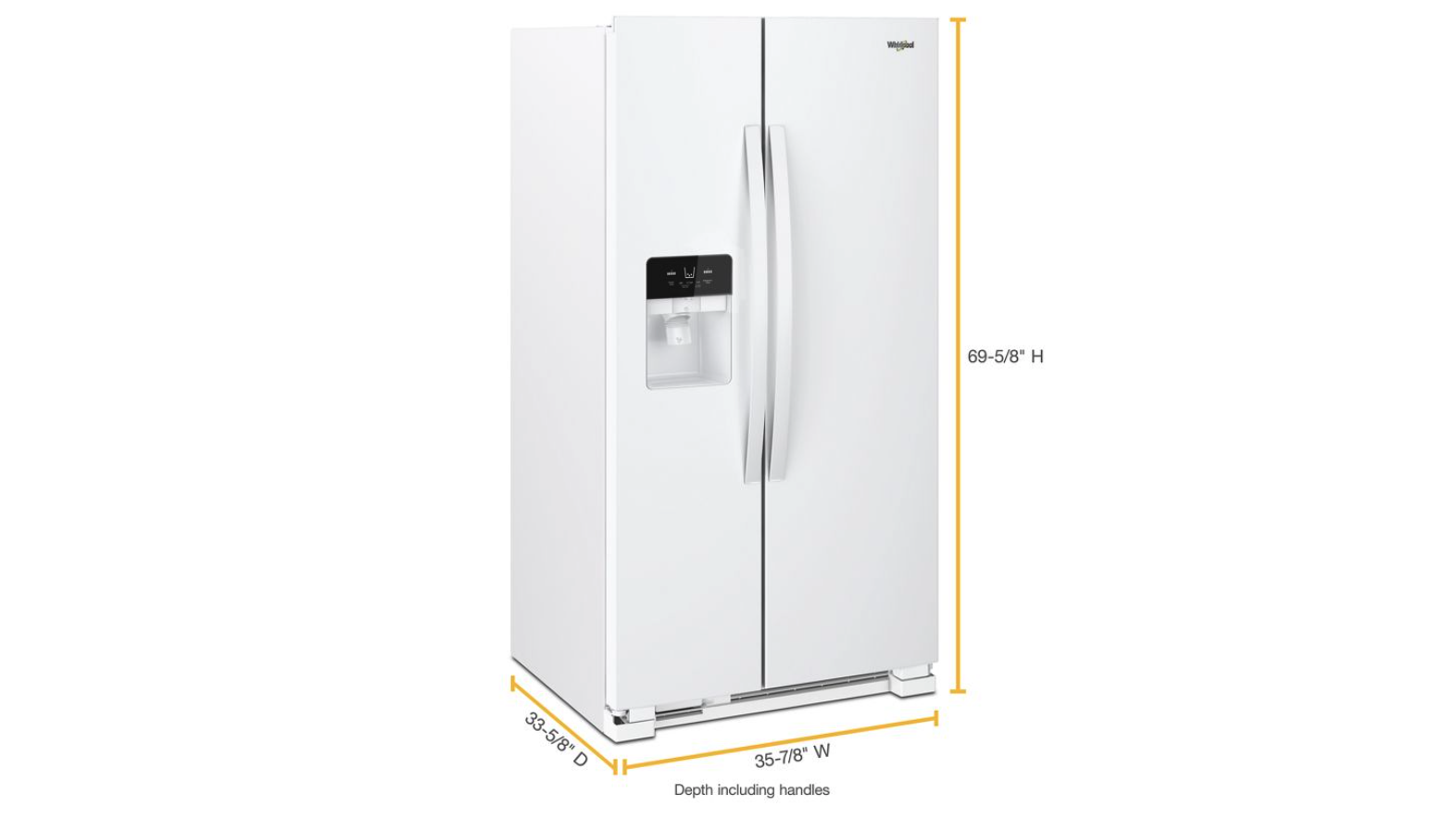 It features tap touch controls next to the water dispenser which are easy to wipe and clean. It also boasts hidden hinges for a seamless aesthetic and two large vertical handles for both doors.
There's an LED dispenser night-light too so you can easily find water and ice at night when you turn on the dispenser night-light option. One customer commented saying it was a touch too bright, making it difficult to go back to sleep after using it, with seemingly no way of adjusting its brightness level.
Whirlpool WRS325SDHB: Features
One of the 'cool' features of the Whirlpool WRS325SDHB (excuse the pun) is the exterior ice and water dispenser. You have the option of crushed or cubed ice shapes and it uses EveryDrop™ Water Filtration to reduce 99% of lead as well as other potentially harmful contaminants so you can access fresh filtered water and ice without ever opening the refrigerator door using the dual pad dispensers.
The everydrop® EDR1RXD1 compatible water filter will need to be changed every 6 months or 200 gallons of water (whichever you hit first) and currently cost $59.99, or $107.98 for a twin pack. You can also take up a subscription on the Whirlpool website to save 20% on the filters.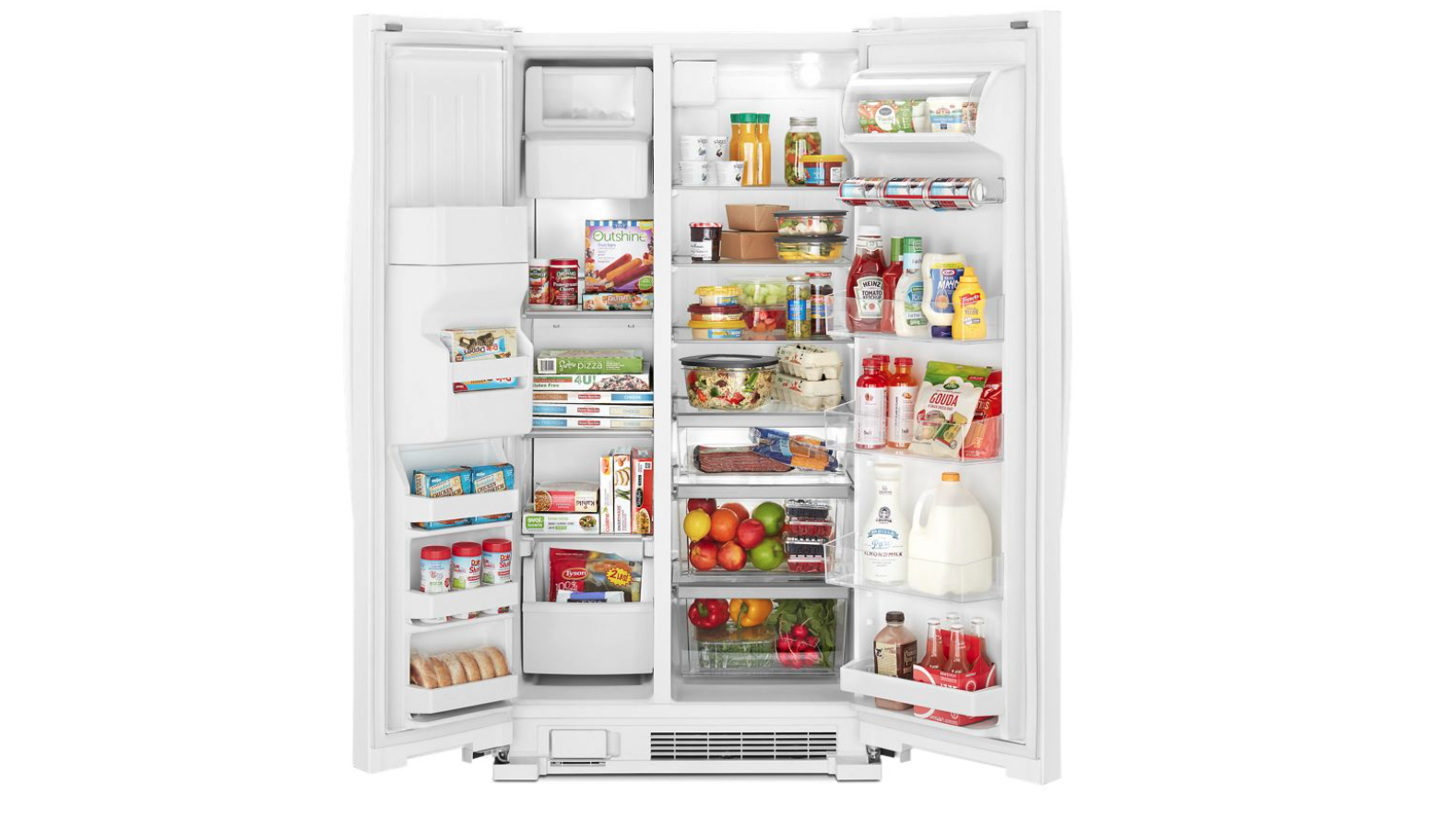 Also on the features list is LED Interior Lighting which Whirpool says will "Keep food looking as good as it tastes. Light is cast inside the refrigerator so food looks like it's supposed to."
Electronic Temperature Controls are also boasted so you can choose the ideal temperature for whatever foods you're storing with convenient, up-front controls.
The Adaptive Defrost setting automatically monitors the freezer environment and runs the cycle only when necessary to stop ice building up on the inside and overfreezing.
The crispers are Humidity-Controlled too, so you can store fruits and vegetables in their ideal environment.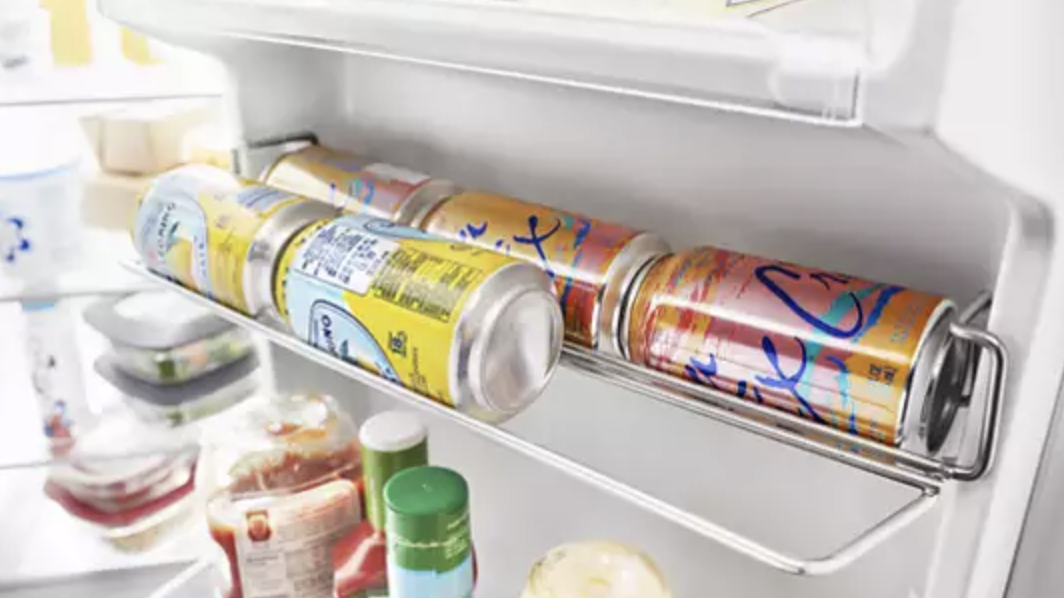 It also boasts an in-door can caddy to free up shelf space and hold cans or bottles of you favorite beverages. There's a specific deli drawer too so you can store plenty of meat and cheese here while keeping your shelves free for other items.
The Whirlpool WRS325SDHB features adjustable gallon door bins that can moved anywhere in the door to suit your specific needs.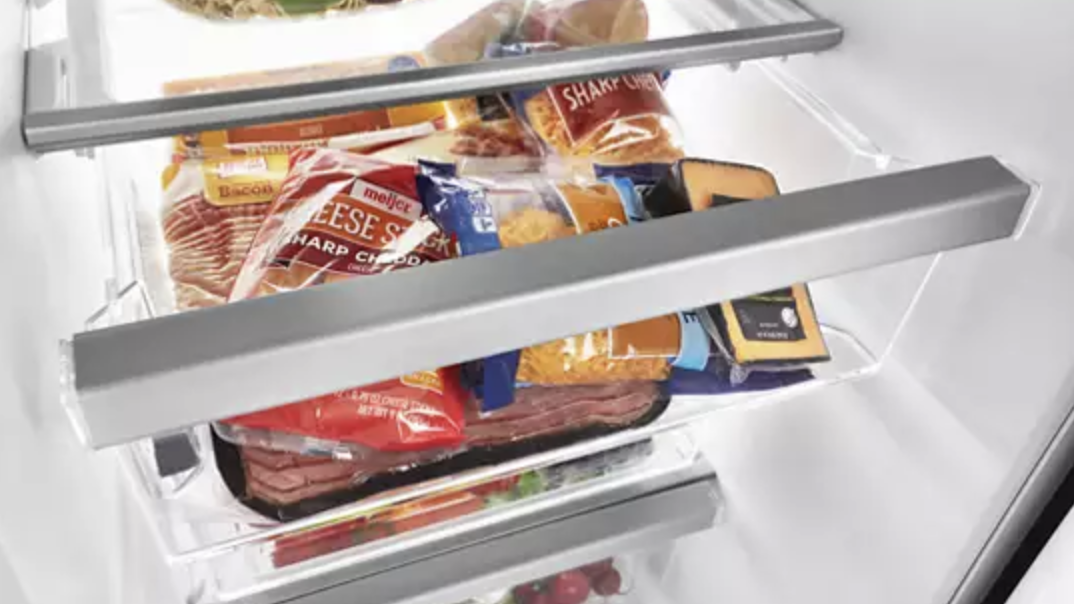 Whirlpool WRS325SDHB: Price and availability
The Whirlpool WRS325SDHB is available in Black, White, Black Stainless and Fingerprint Resistant Stainless Steel options. The Black, White and Fingerprint Resistant Stainless Steel all have an RRP of $1,619, though at the time of review the Fingerprint Resistant Stainless Steel was reduced down to $1,299. The Black Stainless option costs a little more at $1,709.
Stock was available on the official Whirpool website for all four models at the time of review. You can also purchase them from highstreet retailers including Best Buy, PC Richard & Son, Lowe's and The Home Depot.
It's Energy Star certified with an estimated yearly electrical use of 702kWh. EnergyGuide shows models similar to the Maytag MHW8630HW have a yearly estimated cost ranging between $73 and £99, so with the Maytag sitting at an estimated $84 it sits somewhere in the middle when it comes to energy usage.
Whirlpool WRS325SDHB: User reviews
The Whirlpool WRS325SDHB had an impressive 4.1 stars over on the official Whirlpool website from over 3,200 reviews.
Many customers left positive feedback about the size, aesthetic and ability to keep food cold in both the fridge and freezer sections. The main complaints that we saw picked out the ice maker which is on the inside of the freezer door and takes space away from the space in the freezer compartment. Others also commented that the ice maker is loud, dumping ice as it drops it into the dispenser throughout the day and that the dispenser is slippery so glasses can easily fall off.
A few customers also said they'd have liked a textured finish available as an option to hide fingerprints better. The general consensus from customers was that they didn't like that the shelves are fixed in place so can't be taken out to fit in very bulky items.
One customer gave top marks, saying: "We needed a refrigerator and this one seemed like a pretty good deal. We were looking for a side-by-side with water and ice through the door, with a white style. Stainless steel was too expensive. The price was also in our price range. Whirlpool is a brand that we've been using for years and never really had issues with. The storage and freezer areas are quite compatible. We hope that this refrigerator will give us years of pleasure and service."
While one person left a 3 star review, saying "Loud noise when water filling ice trays. The noise that it makes is annoying as it comes on several times an hour" and another left a 3 star review saying "We would liked to have the options to adjust the shelves on the refrigerator side but you can't, and the ice dumping is loud".
Whirlpool WRS325SDHB: Expert reviews
Whirlpool's Kitchen Brand Manager, Bree Lemmen, had the following to say about the Whirlpool WRS325SDHB:
"Whirlpool's Wide Side-by-Side Refrigerator is designed to store just about anything in a convenient and intuitive way. With features like can caddies and adjustable gallon door bins, in-door storage can be used more efficiently to help free up shelf space.
"This fridge also includes frameless glass shelves, a deli drawer, an exterior ice and water dispenser, tap touch controls and more to optimize the user experience."
Should you buy the Whirlpool WRS325SDHB?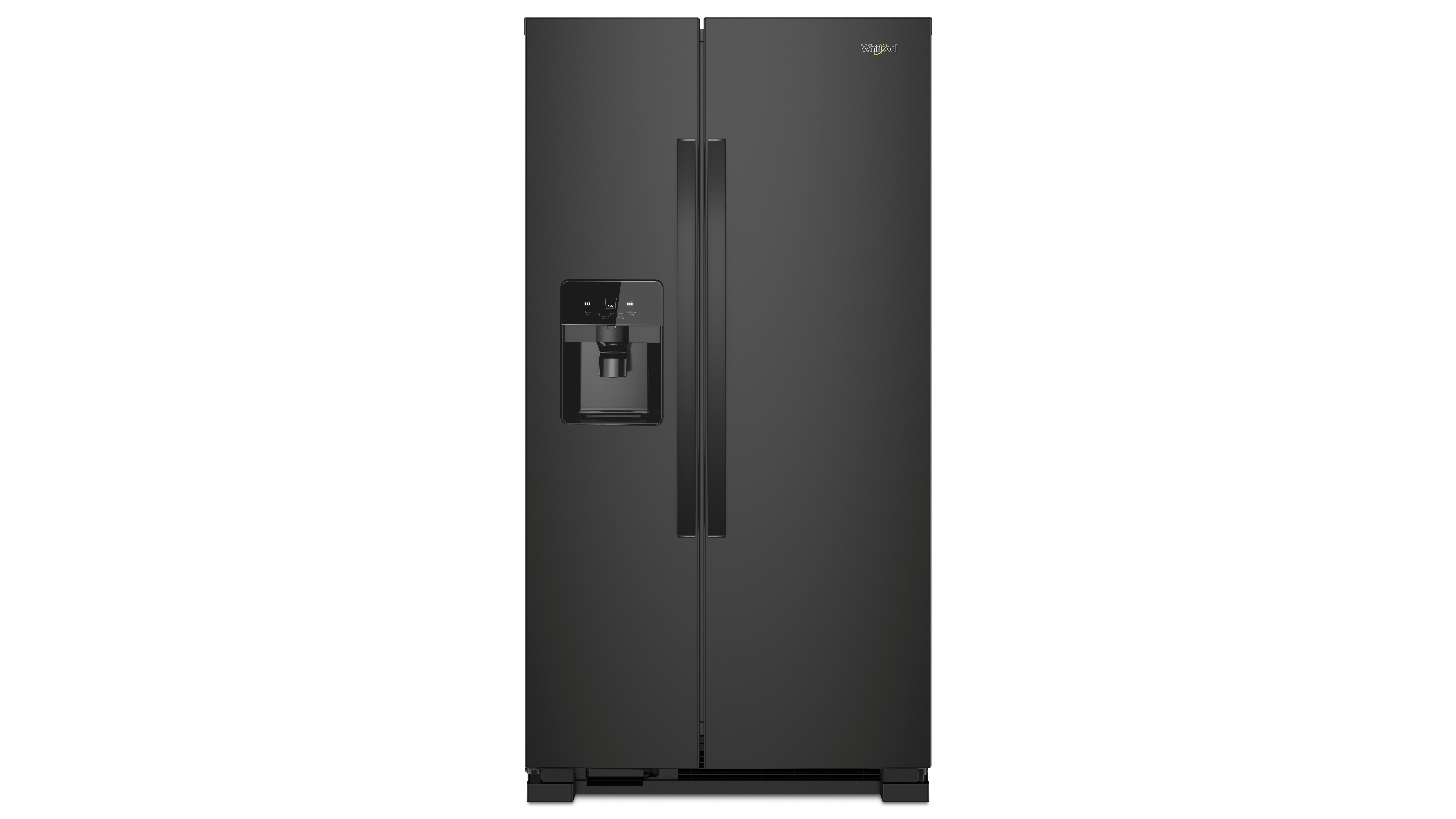 The Whirlpool WRS325SDHB has an RRP of $1,619, which is pretty good value for money with all of the features that it offers (see our comparisons to the more expensive LG LRSOC2306S and Fridgidaire FRFN2823AS models below). 
The Fingerprint Resistant Stainless Steel option was particularly good value as at the time of review it was reduced down to a very reasonable $1,299. 
It's great to have an ice dispenser capable of creating crushed or cubed ice, though users did remark that it was loud and as it sits on the inside of the freezer door it hampered storage space in the freezer section. 
The water filtration system is a great inclusion and its large 25 cu. ft internal capacity is great. We also liked the LED Interior Lighting, Adaptive Defrost setting, Humidity-Controlled crispers, adjustable gallon door bins and the handy in-door can caddy.
That said, we disliked that the shelves are fixed in place and can't be moved around. The ice maker is also reportedly noisy and there's no catch tray for the water dispenser.
When all is said and done, if you can live with these few little quirks and you're looking for a good value proposition then you could do far worse than the Whirlpool WRS325SDHB – it's very reasonably priced and packs in a huge amount of features so you won't feel short-changed.
How does the Whirlpool WRS325SDHB compare to competitors?
The LG LRSOC2306S side-by-side counter-depth refrigerator is more expensive that the Whirlpool WRS325SDHB at $2,332, so if you pay more, do you get more? Well, it has a smaller 23 cu. ft capacity, similarly has an ice dispenser and water filtration but its Ace up its sleeve is the rather cool and somewhat novel InstaView® glass door so you can see the contents inside the fridge without opening the door. 
The Fridgidaire FRFN2823AS is more expensive at $2,699 (though at the time of review was discounted down to $2,199). It has an interesting design with French doors for the fridge at the top and a pull out freezer drawer at the bottom. It has a larger overall capacity of 28.8 cu. ft, CrispSeal crispers that seal shut to block out dry air and has automatically closing doors too.