The Whirlpool WTW8127LC is a premium top-loading washing machine that sits at the high end of the market, comes packed with some cutting edge features and as such demands a high asking price of $1,399.
Founded in 1911, Whirlpool has been making washing machines for decades and is a household name. It's perhaps for this reason that it's no surprise its machines frequently appear in our best washing machines (opens in new tab) buying guide. 
Whirlpool bought Maytag back in 2006 and both brands are well respected with a good reputation. Whirpool was named Kitchen and Laundry Innovations Best Of 2021 on Reviewed.com
Whirlpool WTW8127LC: Key specs
Price: $1,399
Dimensions: 27.25x 27.9×42.5"
Noise level: N/A
Capacity (cu. ft): 5.2-5.3
Cycles: 36
Energy Star certified: Yes
Warranty: 5 years on some parts
The Whirlpool WTW8127LC is a top-load style washing machine which boasts the world's first ever removable agitator, so the maximum capacity changes from 5.2 – 5.3 cu. ft depending on whether you use it or not. Either way, its maximum capacity is huge! Removing the optional agitator makes it ideal for washing large items such as king size comforters. 
The machine is also Energy Star certified so you can rely on the WTW8127LC to be efficient when using water and be eco-friendly, a handy feature to have with electric and water bills on the rise.
At $1,399 it demands top-whack and your wallet will certainly feel it, though for the money as you'd expect it comes packed with the latest features such as Wi-Fi, a load and go dispenser, pretreat station and no less than 36 cycle options. It's also the only model currently available with the aforementioned removable agitator.
In this review, I'll take a closer look at the advantages and weak points of the Whirlpool WTW8127LC washing machine, looking at design, features, value for money as well as user reviews to see if it's worthy of your hard-earned cash.
Whirlpool WTW8127LC: Design
The Whirlpool WTW8127LC has dimensions of 27.25x 27.9×42.5", weighs 165lbs and comes in two colorways, Chrome Shadow and White. It's worth noting that the Chrome Shadow model has an RRP of $1,399, while the White version costs $1,169. The latter was also discounted down to $999 on the Whirlpool website at the time of this review, so the price appears to fluctuate and if you shop around you'll likely be able to save a bit of money off the RRP.
While the chrome option demands a higher asking price because of its more premium-looking finish, there were multiple comments from customers saying the chrome had peeled off soon after purchasing, so the white option may be the smarter choice. We'll take a closer look at customer feedback in-depth later in this review.
It also features an EasyView glass lid on the top which gives the machine a premium feel and lets you check on your washing while the machine is in operation.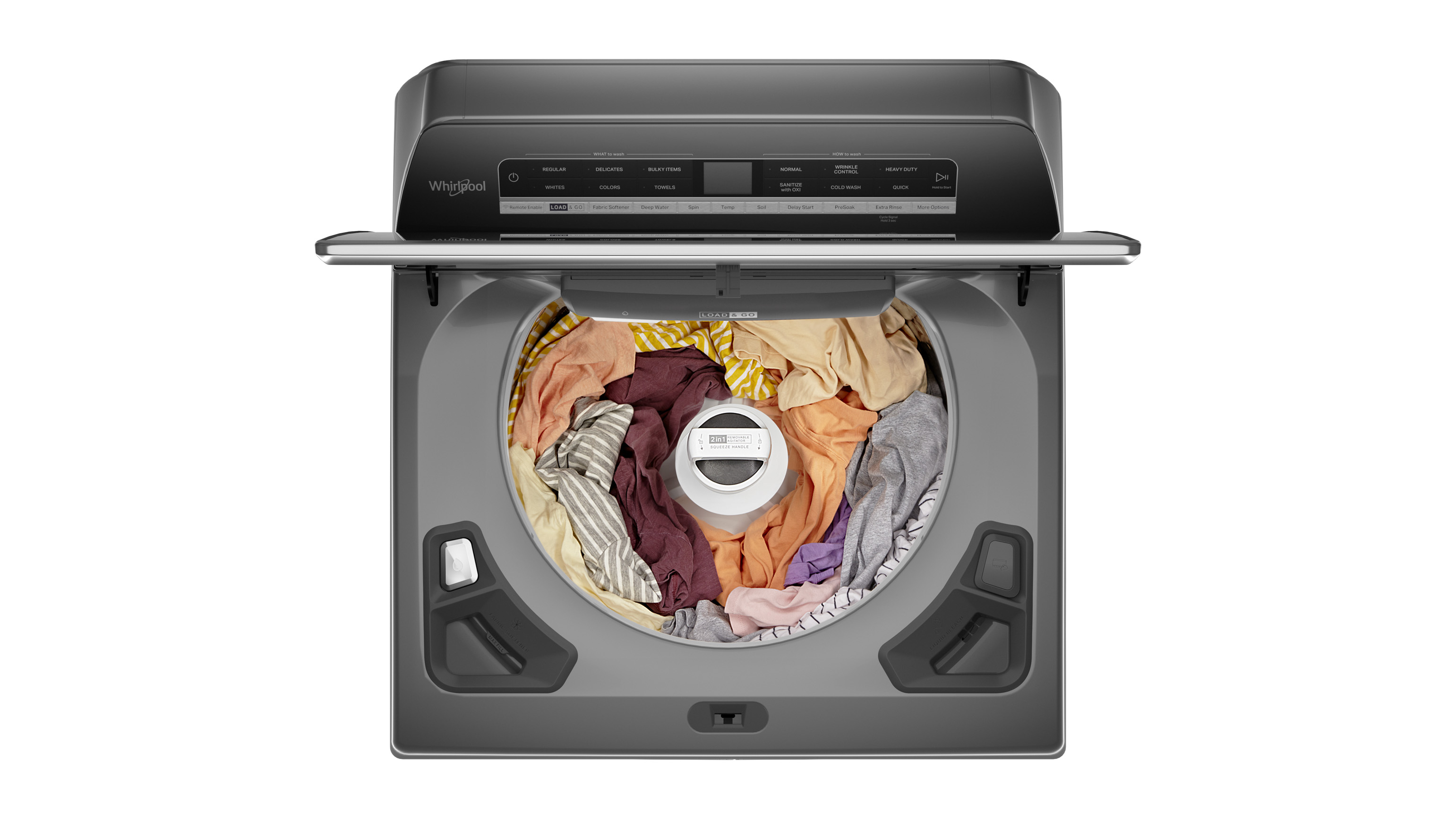 As you might expect from a $1,399 washing machine, the Whirlpool WTW8127LC has a long-lasting stainless steel drum. It also boasts a direct drive motor, known for being more durable and hard wearing than the drive belt system you find on entry-level options. 
One clever design choice is the removable agitator. This world-first feature will give you twice as many wash options as a conventional washing machine, as you can choose to use it, or remove it to for extra space to wash large items like king size comforters, so it's certainly an intuitive and welcome addition.
Whirlpool WTW8127LC: Features
With a price tag over $1000 the Whirlpool WTW8127LC comes packed with some interesting features. As previously mentioned it boasts a removable agitator, a world first, that makes it a super versatile top load washing machine with a large range of washing options. This means the maximum capacity ranges from 5.2-5.3 cu. ft depending on whether the agitator is inserted.
The impeller wash action cleans by rubbing the fabrics against each other, while the design of the impeller's surface helps drive clothes from the outer rim to the centre, where the deepest cleaning happens.
It also boasts no less than 36 cycle options! Many washing machines usually only have about 10-12, so there's likely to be a wash cycle to suit every occasion. Some customers left feedback saying that it actually had too many options and was a bit overwhelming or complicated to use.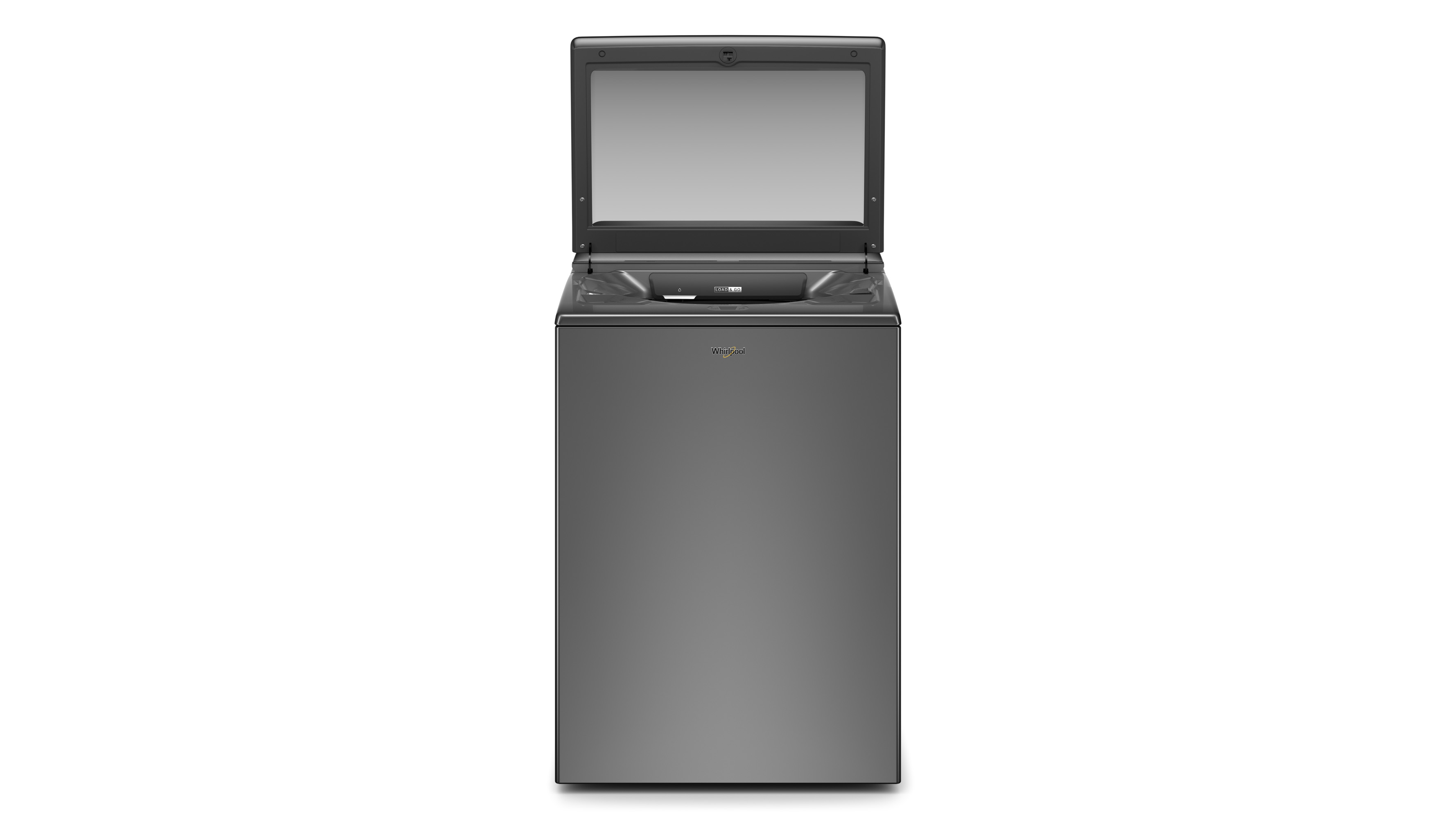 A neat feature of the Whirlpool WTW8127LC is its Load & Go dispenser. Just fill up the dispenser with detergent and it should last for 20 loads before you need to fill it up again. That's what it claims anyway, user feedback hinted that it often used too much, or not enough detergent. So you may find that you get more reliable results by adding your detergent manually.
A Pretreat Station Plus is also on the spec sheet. This integrated faucet allows you to quickly wash and pretreat heavy stains directly over the top of the machine without having to first take it to a sink. So this is a nice time saving feature.
To tackle heavy stains there is an Automatic Presoak option which allows you to set an allotted amount of time to soak your items before the main cycle begins. Presoaking can be set to either 15, 30, 60 or 120 minutes and the cycle will start automatically once soaking is complete.
While the WTW8127LC is Energy Star rated to be economical and efficient with its water usage, there is a Deep Water Wash option if you need to add extra water for heavily soiled items that require extra water and additional cleaning power.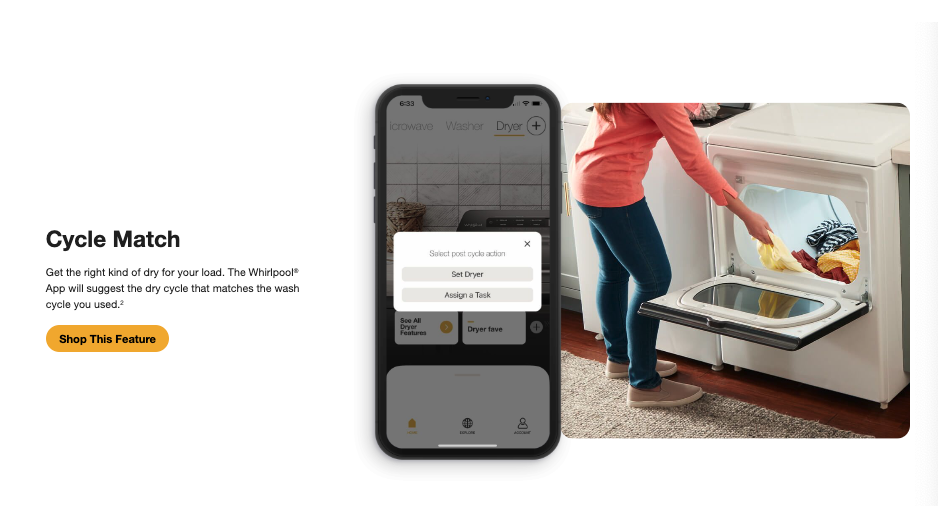 As you might expect from a premium washing machine, the WTW8127LC comes with all the latest smart options and WiFi. Using the Whirlpool app you'll be able to schedule wash cycles and 'Cycle Match' where the app suggests the correct dry cycle to perfectly compliment the wash cycle you've used.
There's also a Smart Reordering function, which is said to be coming soon, though at the time of reviewing was absent. When eventually rolled out, this feature will allow you to get laundry supplies delivered to you when you're running low. You'll be able to connect your Whirlpool App with an Amazon account and take advantage of exclusive Amazon offers, a wide selection of laundry supplies and speedy Amazon delivery.
The Adaptive Wash Technology with Active Bloom Wash Action senses the size of each load and then adapts the water level and wash action based on the type of load being washed.
You can also delay the start of your wash cycle by up to 12 hours, so you can get laundry done even when you're not at home.
Whirlpool WTW8127LC: Price and availability
The price of the Whirlpool WTW8127LC varies considerably, with an RRP of $1,399 for the chrome version, or $1,169 for the white option. We also found the white version discounted down to $999 on Whirlpool's official website. Stock was readily available in the US from retailers like Best Buy and Lowe's.
The Whirlpool WTW8127LC is one of the most expensive top-loading machines on the market, in fact, many of the machines that were more expensive tended to be those large washer dryer combos that take up twice as much space vertically.
Though expensive, it justifies its high asking price with its premium build and features such as a stainless steel drum, direct drive motor, high number of cycle options, load and go dispenser, pretreat station, presoak option and Energy Star rating for guaranteed efficiency. In addition to all of Smart options, Wi-Fi and usability with the Whirlpool app.
If you're after a top-loading machine with a removable agitator then this is currently the only model on the market, so the high asking price might very well be justifiable if it suits your specific needs.
Whirlpool WTW8127LC: User reviews
The Whirlpool WTW8127LC garnered a 4.2 star rating on the whirlpool.com website from over 1300 reviews.
One customer gave the Whirlpool WTW8127LC top marks, saying "I was able to get the funk out of my teen's hoodies after two washes. Never could out of our old front load washer. Lots of space for all loads including comforters. I like the preload reservoir for detergent and softener and the faucet function. Agitator is removable."
While another happy customer left a five star reviewing saying, "This washer performs like a charm. So easy to use and gets clothing clean completely. Have really enjoyed being able to wash large blankets and large loads of towels. Would highly recommend this machine for large families."
As with any product that has a large number of reviews there were some less favorable remarks too. One customer gave a two star review, claiming "The automatic fill option is great if it worked. However it never puts enough water in the tub to completely cover the clothes"
Other users frequently noted that the automatic detergent dispenser used too much or too little detergent for their liking, such as this comment from a 4 star review, "I like all the features but the detergent dispenser (load and go) does not dispense so I have to do it the old school way"
Whirlpool WTW8127LC: Expert reviews
Whirlpool Senior Brand Manager Nelly Martinez had the following to say about the  WTW8127LC, "This top load washer with 2 in 1 Removable Agitator is an efficient and reliable appliance for anyone looking to level up their laundry loads. This appliance features some of Whirlpool's specialty features, including the industry-first 2 in 1 Removable Agitator that provides two ways to wash and the Load & Go™ dispenser that allows users to skip refills for 20 loads."
Should you buy the Whirlpool WTW8127LC?
The Whirlpool WTW8127LC packs in lots of desirable and useful features that help justify its high asking price of around $1,300, though the white version costs a bit less and has often been seen dropping down to $999 on sale which makes it the more affordable option.
For our money the white version, while aesthetically doesn't look as 'premium' as the chrome, is the smarter buy. We came across several comments from customers claiming the chrome finish had started to peel shortly after purchasing, or even on arrival in some cases, so with the white option this won't be a concern.
Some customers also found the Whirlpool WTW8127LC gave unreliable results. Such as the Load and Go system that claims to add the perfect amount of detergent to each wash and the Automatic Fill option that claims to use the 'ideal' amount of water to each load. While in theory these features sound great, some customers found the results a bit unreliable.
How does the Whirlpool WTW8127LC compare to competitors?
The Samsung WF42H5000AW (opens in new tab) was rated our best front loading washing machine though has a smaller maximum capacity of 4.2 cu. ft, fewer cycle options with just eight to choose from and lacks the Wi-Fi and Smart features of the Whirlpool WTW8127LC. That said, it will cause slightly less damage to your wallet, costing about $700.
The Maytag MVW6500MBK (opens in new tab) is comparable in price to the Whirlpool WTW8127LC, with an RRP of $1,299 though often discounted down to $999. Like the Whirlpool reviewed here, it boasts a top-loading design and has a similar a maximum capacity of 5.4 cu. ft. However, it doesn't have the innovative removable agitator and only has 12 cycle options to choose from. The Maytag has impressive cleaning power and has been specifically designed to deal with pet hair so could be better option for pet owners.
The Maytag MVW6200KW was named our best budget washing machine and is a top loader with a maximum capacity of 4.8 cu. ft and 10 cycles to choose from, though lacks any smart options. So it could be a better option for those with a strict budget.